HAWKEN RIFLE PARTS
(shipping and handling calculated at purchase)
These Hawken castings are probably the best on the market for being authentic. All are taken from original Hawken rifles and are made using the lost wax casting process, so there is very little finish work required. They are cast from 8620 steel or soft brass. 8620 steel is very malable and welds easily if mistakes are made in shaping etc. When ordering, specify either steel or brass - and yes, there were brass mounted Hawkens made, although they are rare. I have seen one, typical Hawken mountain rifle but with brass butt and scroll trigger guard.
---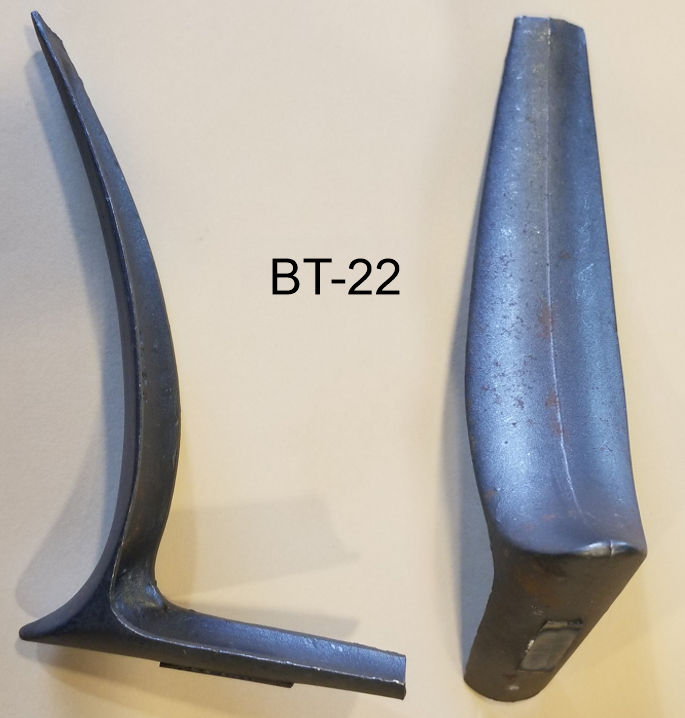 EARLY HAWKEN BUTTPLATE
BT-22 - $25.00
This is the classic Hawken buttplate. The top tang tapers slightly and if the stock is shaped to match the taper the correct stock shape is built in. The depth of the butt plate is 5 inches. This is the so-called early buttplate and came off the same rifle as the TG-26.

This is probably the best buttplate on the market for the Hawken. Of wax cast steel that is malleable and machineable, it will take very little finish work. The casting is very smooth. This was taken off a genuine Hawken rifle and the original butt plate was of the brazed type.
---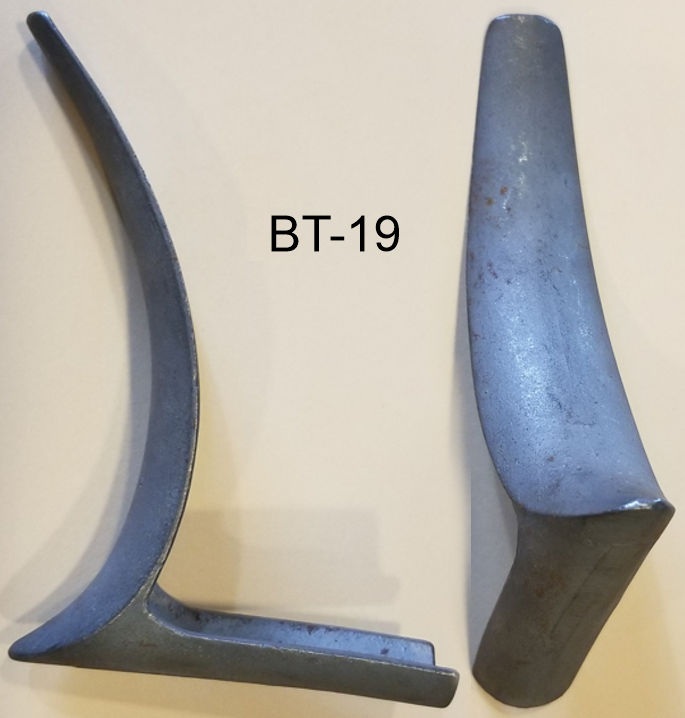 HAWKEN BUTTPLATE
BT-19 - $25.00
This buttplate is often referred to as a late model, although the early and late styles were mixed in production time depending on what the customer wanted, I imagine. This buttplate is slightly smaller, being 4.5 inches deep and the top tang is more square. This buttplate came off the same rifle as TG-22.

This, along with the TG-22 trigger guard, is absolutely "right", as they both came right from one of the J&S Hawken products. A lot of the repos around are somebody's idea of what they should be - but these are right off the original. A fine wax casting that needs very little finishing.
---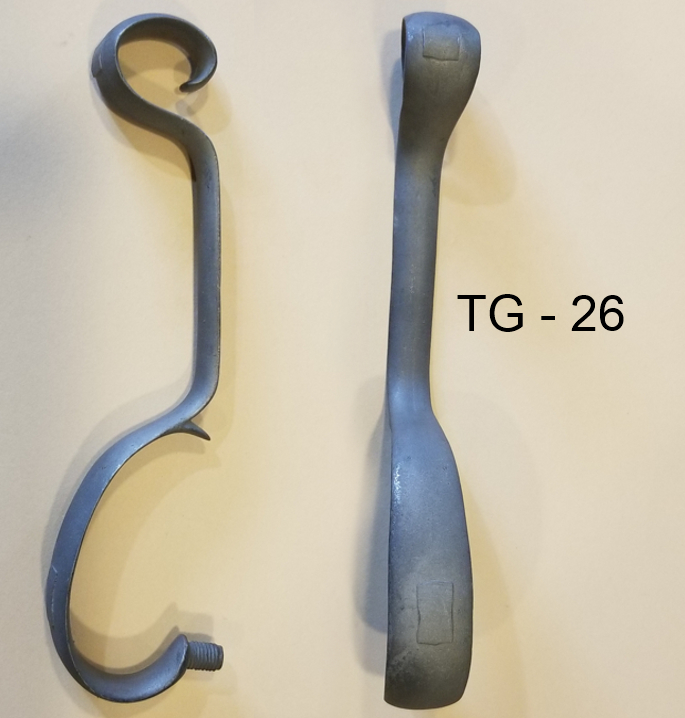 EARLY HAWKEN TRIGGER GUARD
TG-26 - $25.00
This is the flat to the wrist guard that is called the early style. This would be a good style for a flint Hawken and is a very comfortable guard for a shooting grip. This is the style on the flint Hawken in the Smithsonian. The stud can be either threaded for attachment to the trigger bar or the stud can be cut off and a screw run through from the trigger bar, either way works well.

It was taken off the same original Hawken rifle as BT-22. Of wax cast steel, the stud is left on so it can be threaded 1/4 x 28 to screw into the bar or it can be cut off and a screw run through it from above. Either way works.
---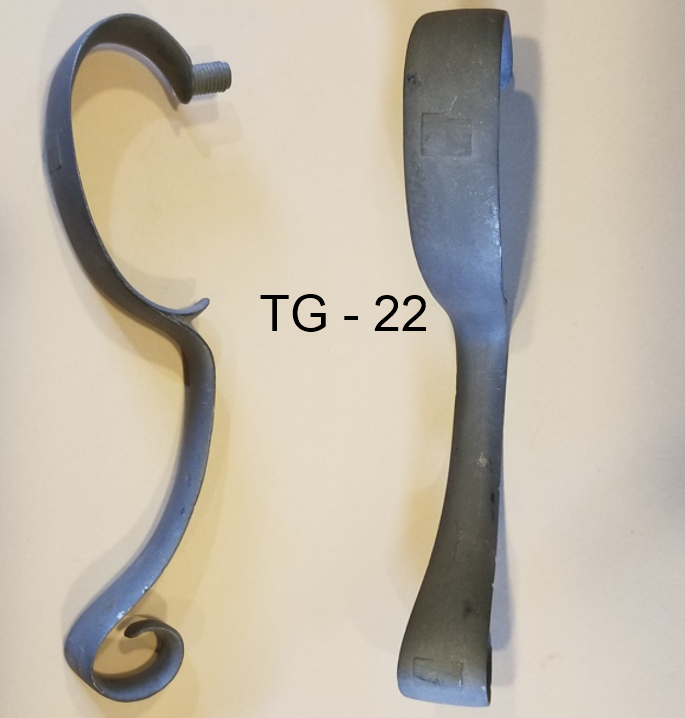 HAWKEN TRIGGER GUARD
TG-22 - $25.00
This is the most commonly seen Hawken guard. It has the somewhat flattened scroll shape that is so recognizable as Hawken. It is set up so that it can be attached to the trigger bar the same as TG-26. Both guards are easily bent slightly to fit the trigger bar.

Of wax cast steel, the stud is left on so you can thread it to screw into the bar or it can be cut off and a screw run through it from above. Either way works.
---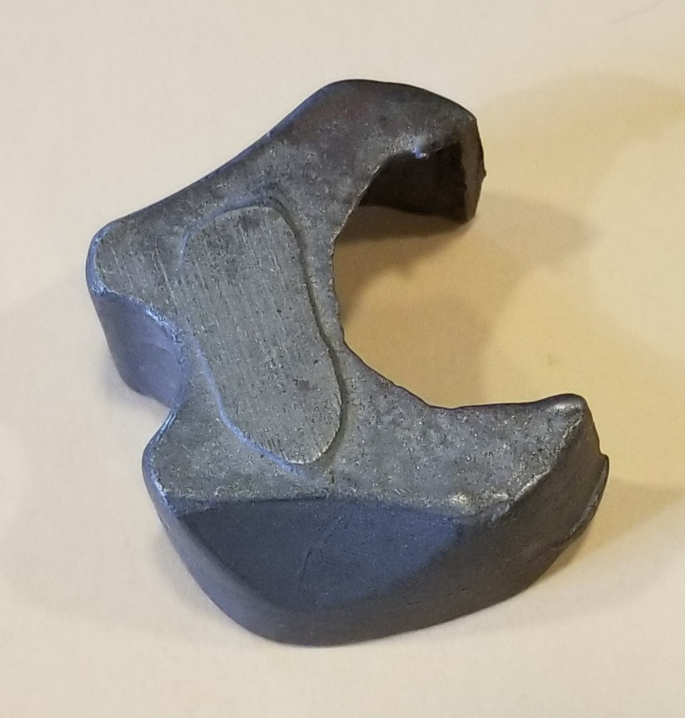 HAWKEN FOREND TIP
P-97 - $19.95
Wax cast 8620 steel forend tip for the Hawken Rifle. Pattern taken from an original Hawken rifle. Fits a 15/16" barrel, but can be opened to 1 inch.
---
HAWKEN "PINEAPPLE" PATCH/CAP BOX
PB-25 - $65.00
This is the very typical "pineapple" patch/cap box often seen on Hawken rifles. Hand forged and finished and ready to install.
---
(add $10.00 shipping and handling on above items)
---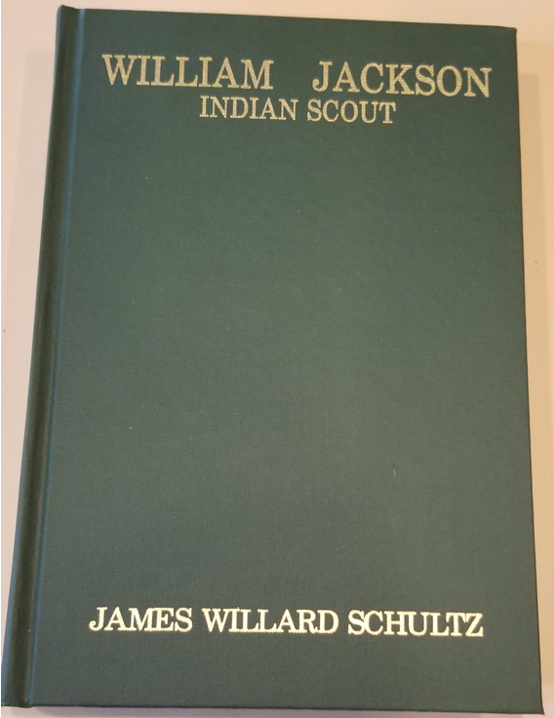 WILLIAM JACKSON INDIAN SCOUT By James Willard Schultz
$85.00
This 200 page book was originally published in 1926, based on a personal interview with William Jackson who was a scout with Reno in the Custer/Little Bighorn fight. His life and especially his first person account of the battle make great reading. The book was reprinted in 1976 and has been out of print since then. We have a very few, in new condition, priced at $85.00 ppd. A great addition to a history library.